It's Our Anniversary!
Citizens Bank and Trust, headquarters in Guntersville, AL has been serving communities throughout North Alabama for 15 years!
Lets Celebrate! CBT is offering 3% APY for the Kasasa Rewards checking accounts.
Yes, you read that right, 3%! (Qualifications apply.)
How we started
Citizens Bank and Trust opened for business in March of 2003 and has seen steady growth since day one, something bank executives attribute to the tremendous support they received from the community.
"The most gratifying thing was how the community rallied behind us," said Executive Vice President Stanley Patterson."
"We see our customers at church, we see them at the grocery store, we see them at the baseball field," said President and CEO Charlie Williams, "and I think they appreciate the fact that we are kind of one of them."
Growth
What started as a small bank above an attorney's office in downtown Guntersville has grown to a large bank family serving nine locations including: Guntersville, Albertville, Elkmont, Rogersville, Arab, Cullman, New Hope, Oneonta, and Hazel Green.
"Our growth is really very exciting," said Guntersville Chief Operations Officer Susan Tully, "because it has all been organic. We have made no acquisitions, we have simply gone where we were needed."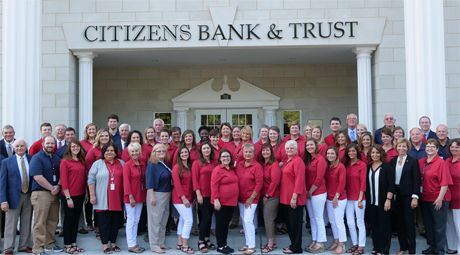 Our Future
With that growth has come a new beautiful headquarters in downtown Guntersville. The new bank was completed in 2017.
"It's the perfect location for us," Mike Allred Chairman of the Board. "It will enable us to be able to continue to be a part of our community and expand as we need to."
Part of being a community bank is actually being part of the community. Community involvement is something CBT has always values, and its something they plan to continue well into the future.
"We are able to be involved in our schools and various others (like) the United Way and our local Chambers," said Susan Tully, "so I really feel like we've been able to make a positive impact on our local community."